Enroll
Thank you for your interest in Noble leadership Academy. At Noble, we try to make all processes as smooth and easy to follow as possible. Please be advised that our admissions for the current academic year ends on December 1, 2022.
Each academic year, the admissions process begins in January or February of the school year. Be sure to check this page for the precise date admissions opens.
2022–2023 New Registration Enrollment
Mark your calendars! Our 2022–2023 new registration enrollment opens on March 15, 2022.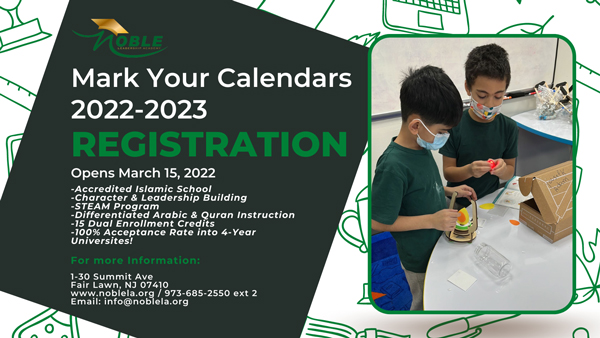 Accredited Islamic School
Character and Leadership Building
STEAM Program
Differentiated Arabic and Quran Instruction
Fifteen Dual Enrollment Credits
One Hundred Percent Acceptance Rate into Four-Year Universities!
For more information:
1-30 Summit Ave
Fair Lawn, NJ 07410
www.noblela.org / (973) 685-2550 ext. 2
Email: info@noblela.org
Steps to Enroll
Whether you are a returning parent or a prospective one, please see the corresponding information in which you'll find the outlined steps to enroll your child in our school, according to grade level. Our School ID number is 2310.
Welcome to Noble Leadership Academy!
Testing Dates for Registration 2022–2023
Test dates are available by pre-scheduling on Wednesdays at 10:00 a.m.
Pre-K students entering KG may test on different days. The front office will schedule a time for KG students to test.